Why You Need Chiropractic Neck Pain Treatment and Proper Work Posture
Why You Need Chiropractic Neck Pain Treatment and Proper Work Posture
Written By All Seasons Full Body Chiropractic Center, LLC on January 25, 2021
---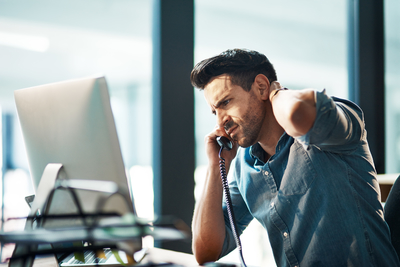 Do you ever find yourself slouching at your desk?
Poor posture is common. Unfortunately, it can cause a lot of painful conditions, like chronic headaches and even repetitive motion injuries.
Thankfully, with chiropractic neck pain treatment and proper posture throughout the workday, you can reduce this pain significantly.
Working from Home – The Toll It Takes on Proper Posture
Working from home has become a reality for millions of people in 2020. While some people view this as a dream scenario, others are realizing they're not very well set up for working from home.
It isn't uncommon for people to work from their couch or even their bed. Other people work from their dining room table while sitting on chairs that were never meant to serve as office chairs.
Regrettably, working for hours this way is not conducive to proper posture or workplace ergonomics. The result: Muscle tension, joint strain, and spinal misalignment – all of which can lead to:
Neck pain
Shoulder tension
Lower back pain
Ease Your Pain with Chiropractic Neck Pain Treatment
Chiropractic neck pain treatment is the ideal solution. Your Fargo chiropractor can help in the following ways.
Chiropractic Adjustments: If you're experiencing spinal misalignment, it throws your whole body off balance. You'll experience pain, as well as a lack of energy due to poor circulation. Spinal adjustments place your body in proper alignment, improving its form and function.
Massage Therapy: Poor posture causes tense muscles. A massage therapist can help release tension, promote relaxation, and reduce overall stress.
Spinal Decompression: If you have nerve compression due to spinal misalignment, injury, or herniated discs, you need relief fast. Decompression therapy can reduce pain within minutes.
Ergonomic Tips: Your Fargo chiropractor can also offer recommendations to improve how you work, such as raising your computer monitor, sitting in a neutral position, and investing in a supportive, adjustable office chair.
Improving Your Posture: How Your Fargo Chiropractor Can Help
If you're struggling with your posture, your chiropractor can provide you with tips that can promote ideal posture, as well as tips for better workplace ergonomics. Putting the suggestions of Drs. Paul Bekkum and Josh Jaeger to use can reduce neck pain and headaches, improve your overall energy, and even boost productivity.
Are you tired of dealing with neck strain and pain? Contact our team today at 701-356-0016 to schedule a chiropractic adjustment.

Posted In: Chiropractic Neck Pain Posture Adjustment